The Emergency Operations Center
The Wheeling–Ohio County Emergency Operations Center was built after the 1975 Labor Day flood to FEMA specifications for nuclear attack and the ability to withstand a bomb. It contains an independent water supply, HVAC system, and electrical supply. A kitchen and bunk rooms are available for staff use when the center is activated.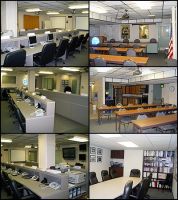 The center is designed for operations using the National Incident Management System. Organization of the center's staff follows the system's pattern for different activation needs. The main section is the operations area. Within view of all sectors are two video boards that display Ohio County's geographical information and the Emergency Management Agency's E-team Information System. A large flat panel monitor displays the EMA Doppler radar system, and two adjacent TV monitors display local and national news sources.
The executive area is next to the operations area. It seats executive leaders of the city of Wheeling and Ohio County commissioners. It also serves as a conference area or classroom during nonactivation times.
A rooftop weather station and monitors for the Ohio River, Wheeling's creeks, and the integrated flood warning system provide valuable information to the center's staff. The center also has a fully equipped Radio Amateur Civil Emergency Service area with packet TV, an advanced video monitoring system.
The Wheeling–Ohio County 911 Center is also located within the Emergency Operations Center. The center, under the direction of director Theresa Burke, dispatches all public safety agencies within Ohio County and the city of Wheeling.
A joint operations center is located within the center to coordinate local, county, state, and federal staff. The joint operations center is the heart of the national response plan when implemented for disasters in Ohio County.
A disaster analysis room, public information room, and military liaison are also housed in the center.