Storm Ready
Ohio Valley Named "StormReady"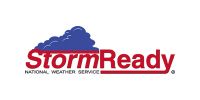 Americans live in the most severe weather-prone country on Earth. Each year Americans cope with an average of 10,000 thunderstorms, 2,500 floods, 1,000 tornadoes as well as an average of 6 deadly hurricanes. Potentially deadly weather impacts every American. Communities can now rely on the National Weather Service's StormReady program to help them guard against the ravages of Mother Nature.
Some 90 percent of all presidentially declared disasters are weather related, leading to around 500 deaths per year and nearly $14 billion in damage. StormReady, a program started in 1999 in Tulsa, OK, helps arm America's communities with the communication and safety skills needed to save lives and property—before and during the event. StormReady helps community leaders and emergency managers strengthen local safety programs.
StormReady communities are better prepared to save lives from the onslaught of severe weather through better planning, education, and awareness. No community is storm proof, but StormReady can help communities save lives.
Ohio County was named StormReady in May 2004 by the Pittsburgh office of the National Weather Service. To achieve this recognition, the Wheeling-Ohio County Emergency Management Agency had to demonstrate its ability to respond to and warn citizens of impending weather emergencies. Ohio County is one of only five StormReady counties in West Virginia.